FRIDAY THE 13TH: THE SERIES
News Clippings
19 December 1988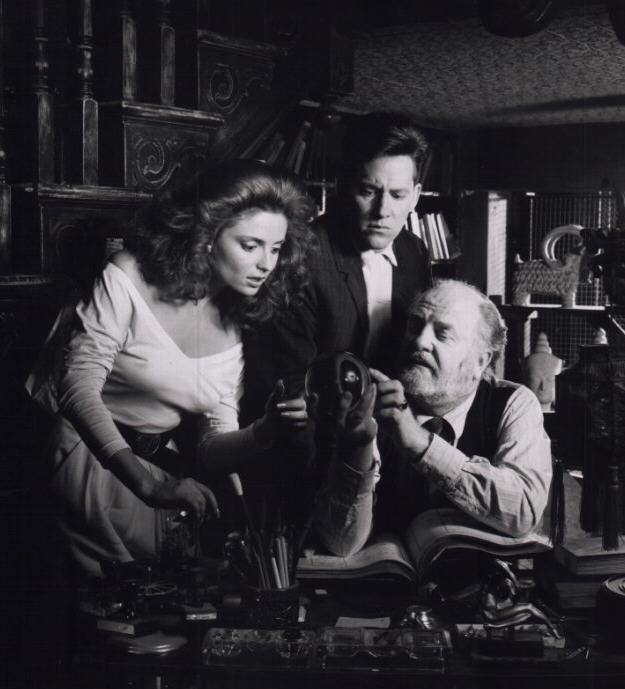 ---
FRIDAY THE 13TH BRINGS HIM LUCK
by Anna Maria Kukec
CHICAGO SOUTH TOWN ECONOMIST TV MAGAZINE (pp. 8-9)
Telephone interview with John D. LeMay.
Three photos - John LeMay headshot, cast photo, Micki & Ryan.
---
FRIDAY THE 13TH: THE SERIES - A SUCCESSFUL TERROR TEASE DEVOID OF GORE
by Advance Staff Writer
STATEN ISLAND ADVANCE
demographics report by age and gender; awards nominations, citations from Hollywood Reporter.
list of cursed antiques in storylines: scalpel, healing glove, makeup kit.
---
FRIDAY THE 13TH - A WINNING FORMULA OF EVIL
by Ted Shaw
UNITED FEATURES WIRE STORY (reprinted in):
FREE PRESS - Winnipeg, Manitoba
DAILY ARGUS - Mount Vernon, New York
CALGARY SUN - Calgary, Alberta
CITIZEN REGISTER - Ossinging, New York
NEW YORK JOURNAL NEWS - West Nyack, New York
DAILY ITEM - Port Chester, New York
STAR - Peekskill, New York
DAILY NEWS - Tarrytown, New York
DAILY TIMES - Mamaroneck, New York
HERALD STATESMAN, Yonkers, New York
DISPATCH - White Plains, New York
STAR - New Rochelle, New York
---
JOHN D. LeMAY - "FRIDAY THE 13TH: THE SERIES" IS HIS DREAM COME TRUE
by Kris Gilpin
DRAMA-LOGUE HOLLYWOOD - November 17-23, 1988.
Cover story on John D. LeMay with cast photo and John's F13 Series promo headshot.
---
FRIDAY THE 13TH: THE SERIES SURVIVES
by Peter Block-Hansen
FANGORIA MAGAZINE #80 (pp. 20-23)
In-depth coverage of series which defied all odds of success. With quotes from cast members John D. LeMay and Louise Robey.
Interview excerpts from production designer Stephen Roloff, supervising producer Jon Andersen, and F/X crew Megan Hope-Ross.
---
FRIDAY THE 13TH: THE SERIES
by Merrill Pannitt
TV GUIDE REVIEW - 10 December 1988.
Negative review of series describing it as having lots of gore, routine direction, heavy handed acting and stilted dialogue.
---
FRIDAY THE 13TH: THE SERIES - GETS SEAL OF APPROVAL
GRAFFITI. Toronto, Ontario, Canada.
calls the series "fun" with *new* storylines and guest stars every week.
---
PAR SYNDICATION SURE BET IN FIRST RUN SYNDICATION
by John Dempsey
DAILY VARIETY--HOLLYWOOD. 9 December 1988. Vol. 222 (4)
Yearly production figures for Friday The 13th: The Series is reported at $13 million.
---
RATING CREEP SHOWS ON THE FRIGHT METER
by Matt Roush
USA TODAY
F13 Series rated 2 1/2 out of 4. Description: "Not a hockey mask in sight as two cousins and an old coot track down devil-damned antiques. A goofy concept, but it results in some mindless madness as victims are possessed by the curious curios. The pop-eyed leads grow on you and the show seems better. One recent episode, in which a radio caused mental patients to imagine their worst fears, was neato.
---
FRIDAY THE 13TH: THE SERIES - ENJOYING ITS SECOND SEASON OF SENSATIONAL RATINGS NATIONALLY
HOLLYWOOD REPORTER
full page advertisement featuring Louise Robey promotional headshot for KCOP (Channel 13) 7 pm Saturday nights.
---
SCI-FI, SCARE FARE RETURN: CHANNEL 44'S NEW WEEKEND FRIGHT SLATE
by Michael Dougan, Examiner Television Critic
SAN FRANCISO EXAMINER
Successful horror shows in first-run syndication include Friday The 13th but not War of The Worlds, both by Paramount Domestic Television Group. Both shown on KBHK-TV.
telephone interview with executive producer Frank Mancuso Jr.