\

FRIDAY THE 13TH: THE SERIES
News Clippings
17 November 1988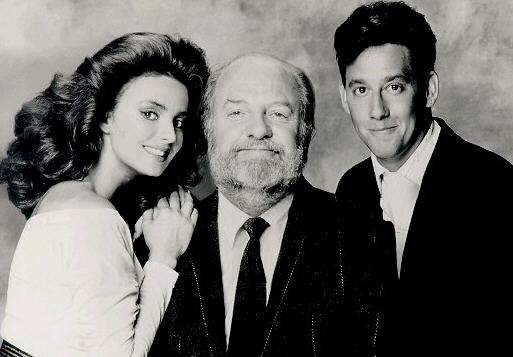 ---
OFFBEAT THRILLER SERIES MOVES TO PRIME TIME
by Bob Weinstein.
TOTAL TELEVISION MAGAZINE. New York.
Friday The 13th: The Series moves from 11:30 pm time slot to prime time with 26 new episodes.
contrasts film series and television series of the same name.
---
ACTOR CHASES AFTER THINGS THAT GO BUMP IN THE NIGHT
by Tom Nelson.
SAN GABRIEL VALLEY TRIBUNE, CALIFORNIA. 16 October 1988.
Focus story on John D. LeMay as Ryan Dallion.
---
HORROR GENRE FINDS NICHE ON SYNDICATED TELEVISION
by Bill Kelley.
TV WRITER
Story reprinted in the following newspapers:
Fort Lauderdale News
Calgary Herald, Alberta
Salt Lake Tribune
Ogden Standard Examiner
Fort Lauderdale Sun Sentinel
Philadelphia News
Daily Press, Newport News Virginia
Hamilton Spectator, Ontario
---
SHE CHASES THE CURSES ON TV'S 'FRIDAY THE 13TH'
by Bob Sokolsky.
RIVERSIDE PRESS ENTERPRISE, CALIFORNIA.
interview with Louise Robey at KCOP studios. Small headshot promo photo inset.
---
THE NEW CROP OF HORROR - PRETTY SCARY
by Marie Moneysmith.
THE HOLLYWOOD REPORTER. 11 October 1988. p. S32 - MIPCOM '88 SPECIAL REPORT.
TV marketing trends using first run syndication cites Paramount's F13 budgets in producing 26 episodes.
---
LOS MOMENTOS DE EMOCION Y TERROR DE "VIERNES 13" LLEGAN EL SABADO A CANAL 13
LA OPINION, LOS ANGELES, CA.
---
VIOLENT TV SHOW IS TOO EARLY
Letters To The Editor
DESERET NEWS, Salt Lake City, UTAH.
---
25 WHO COUNT
by Robert Marich
VIEW MAGAZINE
interview with Greg Meidel, senior VP and General Sales Manager of Paramount Domestic Television, on directing the Paramount *SYNDICATION* sales force.
---
INDIES' OPPORTUNITY
by Ron Inman, VP Marketing, Association of Independent Television Stations (INTV)
TV FACTS FIGURES AND FILM. 19 September 1988. p.23
Friday The 13th: The Series is not affected by the Writers Strike of Summer 1988. Begins with five new episodes starting with "Doorway To Hell"
---
FRIDAY THE 13TH BRINGS ITS THRILLS & CHILLS TO TV
by Ted Shaw
INSIDE CANADA
on the set of Friday The 13th: The Series in Toronto, Ontario, Canada.
With brief biography of Chris Wiggins and headshot photo.
Reprinted in ELIZABETHTON STAR, Tennessee and TEXAS CITY SUN.
---
SHOT IN ONTARIO
HOLLYWOOD REPORTER
special report on a sampling of feature films, made-for-tv movies, series (incl. Friday The 13th - with cast photo & reference to Paramount/Triumph Entertainment), and mini-series shot in and around Toronto between August 1987 and August 1988.
---
SCARE TACTICS
TV SCENE - CHRONICLE JOURNAL. Thunder Bay, Ontario, Canada
photo of Micki & Ryan with caption: "Who says scare tactics don't work? In its very first season, Friday The 13th: The Series quickly became the favorite TV terror of Americans. This fall the terror comes home to roost as the program makes its Canadian television debut, premiering with 26 first-run hour-long episodes. Some stations will be carrying year one of the series, others year two ... The series will be carried in Thunder Bay."
---
JASON LOES OUT TO CLASSIC GOTHIC HORROR
by Erick Kohanik
HAMILTON SPECTATOR, Hamilton, Ontario, Canada.
series described as suspenseful with a touch of humour. And does not have the slash and splash of its movie ancestors.
Description:   "John D. LeMay and former international teen model Robey have plenty of youth appeal and make a fairly decent team as cousins Ryan and Micki ... And Chris Wiggins does a respectable job of his co-starring stint as Jack Marshak ..."
---
FRIDAY THE 13TH: THE SERIES TAKES GOTHIC APPROACH TO HORROR
by Murray Greig
WINNIPEG SUN, Winnipeg, Manitoba, Canada.
interview with Frank Mancuso Jr. as series successfully enters season two.
Mancuso hopes to bring back names such as David Cronenberg and Tom McLoughlin for second season episodes. Quotes include: "We'll be opening up to the outside world a little more - exploring more universal themes ... we'll also be incorporating more hard-edged fantasy. We believe very strongly in treating frightening things if they were real. We want viewers to take us as seriously as possible."
Mancuso Jr. also explains what is meant by a mini Faustian exploration.
---
FREAKY FRIDAYS
TIMES TRANSCRIPT, Moncton, New Brunswick, Canada.
candid of Louise Robey with caption:   "Robey, a former singer and model who uses only her last name professionally, beat out 300 other women for a starring role in the television version of Friday the 13th. The series airs at 10 pm on MITV and 1 am on ABC - on Friday nights, of course (AP Laserphoto)"