FRIDAY THE 13TH: THE SERIES
News Clippings
15 October 1988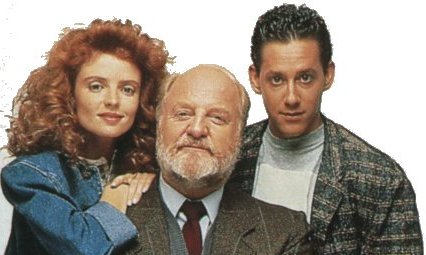 ---
FRIDAY THE 13TH IMAGINATIVE
TELEVIEW COVER STORY -- The Columbus Dispatch Broadcast & Cable Guide
Fox finds a hit with Friday The 13th--The Series. 25 September to 1 October 1988.
includes photo of Micki and Ryan with Jack in the centre.
---
FRIDAY THE 13TH SCARES UP ANOTHER SEASON OF TERROR
FLORIDA TELEVISION MAGAZINE -- The Tampa Tribune
includes photo of Micki and Ryan on cover story
---
TV'S FRIGHTENING DEVELOPMENT
CALENDAR - THE LOS ANGELES TIMES. 15 October 1988 pp14, 15-20
A look at syndicated tv programmes, incl. Freddy's Nightmares, & F13 series episode FAITH HEALER
---
ROBEY: SCARY AND SULTRY
by Gary Schneeberger
RACINE DAILY JOURNAL - Hollywood Hotline Column
Photo of Micki & Ryan with caption which reads "Robey stars with John D. LeMay in Friday The 13th: The Series"
---
BE VERY CAREFUL WHEN YOU GO SHOPPING ON FRIDAY THE 13TH
San Antonio Light
Photo of Robey with caption which reads "Newcomer: Despite having almost no experience in film or television, Robey, who uses only one name, beat out 300 other hopefuls for the lead role in 'Friday the 13th: The Series.'"
Interview with Louise Robey on the character of MICKI FOSTER and her views on working with Canadian cast and crew as well as her thoughts on the premise of the series.
---
SAME NAME, DIFFERENT FRIGHTS
by Jim Carnes
THE SACRAMENTO UNION
Overview of the series and how it differs from the film series of the same name. Mentions current episodes in fall lineup: PIRATE'S PROMISE and WHAT A MOTHER WOULDN'T DO.
Photo of the heroes looking up from the Manifest with caption which reads: "A trio of terror trackers is portrayed by (from left): John D. LeMay, Chris Wiggins and Robey in 'Friday The 13th.'"
---
FRIDAY THE 13TH SERIES IS FRIGHTENINGLY GOOD
by Kay Gardella
THE NEW YORK DAILY NEWS
Photo of Ryan sitting down looking up at Micki which caption which reads: "Heirs: John D. LeMay and Robey"
Brief articles make mention of episodes THE PIRATE'S PROMISE and BADGE OF HONOUR
---
FRIDAY THE 13TH: THE SERIES OPENS SECOND SEASON SATURDAY
THE AUGUSTA CHRONICLE, Georgia; 9 September 1988
---
SYNDICATED SMASH: ROBEY MAKES FRIDAY THE 13TH MOVE
by Rick Bentley, Editor
TOWN TALK CHANNELS -- Central Louisiana. August 13-19, 1988.
Cover story with Robey head shot and interview with cast photo and caption which reads: "The cast of FRIDAY THE 13TH includes (from left) John D. LeMay, Christopher Wiggins and Robey."
Photo #2: Robey headshot with accompanying caption: "Robey enjoys challenge of acting."
---
PAR'S 'FRIDAY' TO OPEN 2ND SEASON
THE HOLLYWOOD REPORTER -- 29 September 1988
announcement of second season lineup of F13:TS, War Of The Worlds, and Star Trek Next Generation all by Paramount Domestic Television. With brief quote from producer Frank Mancuso Jr.
Description and brief review of 2nd season opening episode DOORWAY TO HELL shown on channel KCOP Saturday at 7 pm (PT).
---
FRIDAY THE 13TH THE SERIES ARRIVES AS RELIEF FOR RERUN-WEARY VIEWERS
by Steve Weinstein
THE LOS ANGELES TIMES -- 1 October 1988, p.13
weekend television picks during 1988 Summer Olympic Games incl. F13 series at 7 pm on channel 13 and channels 6 & 42 at 11 pm.
---
ARE WE SCARED YET?
by Ray Richmond
SATELLITE ORBIT MAGAZINE -- October 1988, pp.24-28
Author notes that "suspense" rather than blood and gore, is the key to the success of the Friday series as it continually maintains high ratings and moving to evening time slots rather than the late night graveyard shift.
Small screen capture of Micki, Jack & Ryan from the episode HELLOWE'EN with caption which reads: "Friday the 13th: The Series - always a lucky day."
---
DAVID CRONENBERG'S DEAD RINGERS - Part One
by Tim Lucas
FANGORIA magazine. Issue #79 pp. 26-29, 67
Exclusive interview with Canadian filmmaker & director David Cronenberg on his movie "Dead Ringers" and his directorial work on the Friday series episode FAITH HEALER. Cronenberg talks about working with Canadian actor "Robert A. Silverman" who played the role of Jack's friend "Jerry" and his decision to focus on the guest stars rather than the established characters.
Photo #1: Jerry with caption reads: "In the Friday the 13th TV episode 'Faith Healer', Cronenberg veteran Robert Silverman once again has hideous things growing on him."
Photo #2: Jerry & the charlatan healer with caption: "Easily the best hour of television drama this decade, FAITH HEALER deals out some hard questions about the nature and abuse of religion."
---
FIRST-RUN SYNDICATION A SUCCESS
by Aljean Harmetz
THE NEW YORK TIMES -- October 1988
Article reprinted in The Cincinnati Enquirer, Kentucky Enquirer, Columbus Dispatch, Allentown Morning Call, St. Petersburg Times, San Bernadino Sun, Express New, San Antonio
TV series breaking new ground bypassing the networks. The barter system of marketing and advertising and projected revenues for Paramount Domestic TV in 1990, with breakdown of numbers by gender, age, and accounting for regional differences.
Cast photo with caption: "Friday the 13th features John D. LeMay, Robey, and Chris Wiggins.
---
SYNDICATED PROGRAMMING
TV Guide Canada -- September 3-9, 1988
Introduction to Friday the 13th The Series described as gothic storytelling.
Cast photo with cast names.
---
IN REVIEW: IT WILL FILL YOU WITH HORROR AND TERROR - NOW AND THEN
by John T.D. Keyes
TV Guide Canada -- 17 September 1988.
Negative review of the series with credit given to the guest stars.
Small cast photo included with review.
---
WHAT A NASTY SHOCK! FRIDAY THE 13TH ON TV
by Linda Renaud
THE TORONTO STAR
Reviewing the work of Paramount producer Frank Mancuso Jr. Articles gives indepth look at the Friday series from the standpoint of Canadian directors and other crew. Excerpts of interview with Mancuso Jr. and his choice of Toronto as filming location, working with names such as Bill Fruet and David Cronenberg, and using city landmarks such as Casa Loma, Chinatown, University of Toronto campus, and more.
Small headshot of Frank Mancuso Jr. with caption: "Frank Mancuso scares other people now with horror movies and new TV show."
---
BLAZING NEW TV TRAIL
by Aljean Harmetz
THE NEW YORK TIMES -- Reprinted in THE OTTAWA CITIZEN
Use of first-run syndication, bartering concepts defined and applied to STAR TREK NEW GENERATION and FRIDAY THE 13TH THE SERIES.
---
FRIDAY THE 13TH STRIKES BLOW AGAINST RERUNS DURING STRIKE
by Bob Brock
THE DALLAS TIMES HERALD
KDAF Channel 33 in Dallas. Friday fans can tune into five new episodes during the writers strike rather than be subjected to reruns which affected other American programming.
---
FRIDAY THE 13TH TV SERIES IS HIGH ON PLOT, LOW ON GORE
by Tom Hopkins, Television Editor
DAYTON DAILY NEWS -- Dayton, Ohio
Excerpts of television interview with F13 producer Jon Andersen on budgets and spending on special effects. Hopkins also makes note of one of his favourite episodes called DOUBLE EXPOSURE starring Gary Frank as Winston Knight.
---
CHEERS 'N' JEERS
SAN FRANCISCO WEEKLY -- TV GUIDE -- 17 SEPTEMBER 1988
"Cheers 'n Jeers" column in San Francisco TV Guide with a "Roper and Ebert" type recommended list and not-so-good ones. FRIDAY THE 13TH THE SERIES is listed as a "Cheer" with a headshot of Robey. Caption reads: CHEERS To the syndicated series FRIDAY THE 13TH for its superior special effects and imaginative plots. The show -- which doesn't include Jason, the hockey-masked villain of the movies of the same name -- features some pretty fair acting from special guests as well as regulars John D. LeMay and Robey (above). FRIDAY THE 13TH restores our faith in the potential of the TV horror/suspense anthology.