THE JOHN D. LEMAY BIOGRAPHY
Copyright © John D. LeMay 2001. All Rights Reserved.
---
John D. LeMay was born in St. Paul, Minnesota on 29 May 1962. In 1970, the LeMay family relocated to Normal, Illinois. As a public school student in the second grade, John got his first taste in theatrical productions by playing the part of "Sneezy" in his class production of "Snow White & The Seven Dwarfs". Playing a "ham" at cub scouts, he discovered that not only could he sing but he was also able to make people laugh. After winning first place in a high school talent contest for his singing, John joined the Normal Parks & Recreation Department's High School theate program to participate in musical comedy. He decided to further his education in Vocal Performance & enrolled at Illinois State University's Theatre Department, during which time he interned with the Theatre Building in Chicago & also landed a role in the Bailiwick Reportory production of ROOM SERVICE & the Blind Parrot production of AMERICAN GOTHIC. After graduating with a Bachelor of Science degree in Music, combined with a contract major in Musical Theatre in 1984 (the contract allowed him to receive credit in other performance classes such as theatre & dance), John earned his Screen Actors Guild (SAG) card the following year, & then moved out west to Los Angeles, California. He also added a middle initial "D" to his name so as not to be confused with another actor by the same name.
| | |
| --- | --- |
| For the next two years, John worked with an agent who kept him busy doing commercials & guest spots on television series. His first gig was on "Remington Steele" in 1985, followed by appearances in "Facts of Life" & Rod Serling's "The New Twilight Zone". He also appeared as a medical intern in the 1987 comedy film THE COUCH TRIP just prior to winning the lead role as Ryan Dallion on the horror gothic anthology series "Friday The 13th: The Series". A few weeks before his audition, John had accompanied a friend on a Thursday evening to a "spiritualist centre" in Hollywood. Visitors were asked to submit a handwritten question on a piece of paper & place it into a bowl. A middle-aged seer pulled John's question & he was told that he would be expecting a job offer from "back East". John interpreted this as meaning New York City. Shortly afterwards, he received a call to audition for a series in Toronto! Says John, "I convinced myself that the job was mine -- that the great beyond was taking care of me. That being said, I prepared myself for every audition ... I remember us [Robey] going over the sides near a dumpster in the Paramount lot. It all seemed glamorous at the time." | |
But after working full time for two years in Toronto, the 5' 10" brown haired & brown eyed actor decided to leave behind the role of antique sleuther Ryan Dallion in order to move on to pursue other acting roles. It was a difficult choice to make, but one which he felt was necessary. An artist must continue to grow by experimenting with other roles. He has, though, kept in close contact with fellow cast member, Chris Wiggins, as well as other crew members from the series. He treasures his memories of his tenure on the set & has maintained a personal photo album of his work on the series plus souvenirs that include select wardrobe pieces designed & selected specifically for him.
| | |
| --- | --- |
| | Following his departure from the series, John racked up more television credits with guest spots on the historical war drama series "Tour Of Duty", & on "Gabriel's Fire," "Eddie Dodd," & "Over My Dead Body" In 1993, John starred in part nine of the Friday the 13th film series JASON GOES TO HELL: THE FINAL FRIDAY. Playing the heroic role of Steven Freeman who battled the hockey-masked maniacal killer Jason Vorhees to save his infant daughter. John worked under the guidance of director Adam Marcus for New Line Cinema Corp. Although the film series and the tv series shared the same title, there was no further association. "Jason Goes To Hell" is available in both rated & unrated versions on VHS & laserdisc. Plans for its release on DVD format are in the works. |
In 1995, John was cast as a fashion photographer in the independently produced film WITHOUT A MAP. Alternately titled DISPATCHES FROM A MESSY JOURNEY, this film was well received at the "American Film Institute" in Los Angeles & was awarded "Best New Director" in 1997. Late in 1999, John appeared in the short film THREE SHOTS, which focuses on a self-employed family through three time periods at their place of business, a Chicago tavern. The film debuted in January 2001 at the Sarasota Film Festival in Florida.
| | |
| --- | --- |
| Throughout his career, John's resume includes a lengthy list of commercial credits for many well known American corporations. Starting in the mid 1980s with an early appearance for "Equal Sugar Substitute," John has also endorsed such consumer products as "Lee Jeans," "Cross Pens," "Timex Watches," & the "Cheerios" line of cereals for General Mills Inc., amongst many others. Last year, John appeared in a thirty-second commercial for Germany based "mySAP.com," which aired during the 2000 Academy Awards pre-show, after which it aired regularly during the NBA finals & champ CART Racing competitions. Furthermore, John also works behind the scenes as a production designer for various industrial film, commercials, and independent projects. Thinking back to the Friday series, he was most impressed with the production design for "The Playhouse" episode. | |
John has also amassed an impressive list of theatre credits to his name. In 1999, he appeared in THE BOYS NEXT DOOR which earned an Ovation Award for "Best Ensemble", & WILD KINGDOM an original piece produced by The Hidden Theatre Company, of which he is a member.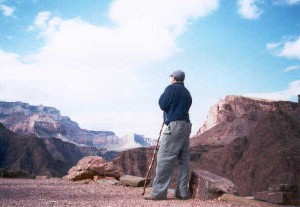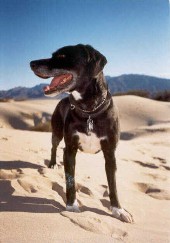 Outside his acting career, John is also a talented artist. He has produced a series of art pieces that are contained in the private collections of various individuals across North America & Europe. Moreover, select works are on public display at ASP Computer Products Inc. & at OSP Publishing Co. in California. In 1998, he held a solo art exhibit for his "Highwayscapes" series that was favourably reviewed by L.A. Times writer Josef Woodard as part of a weekend news coverage on the "Innerworks 98" show. When I asked John on what inspires him as an artist, his reply was "the need to express myself and the resulting illumination self ... there is no separation between my life & my art. My goal, as always, is to create a life." The actor/artist also displays his work with a group of artists. The group is devoted to the transformational and spiritual in art. Group exhibits have been held at various Hollywood locations including "The Available Light Gallery," in 1997 and 1998 and at "The Hollywood Arts Festival" in 1992.
Currently, John is busy painting a series based on his childhood art work. Having travelled by car from L.A. back to Illinois during the summer of 2002, John gathered field data for his own work in documentary filmmaking, & is also editing & reviewing over 70 hours of footage from the summer travels with the hope of finding a story idea to write about. This, combined with reading short plays for future production with The Hidden Theatre company, designing for photo shoots, John is also studying with actress Jo-Anna Gleason & soon will be finding some time to tackle a second language, which he has selected, to be Spanish.
On his spare time, John is an avid reader. He has been reading the national bestseller novel "Ecology Of Fear" by Mike Davis. He also sees himself as a magazine junky, subscribing to such titles as MacWorld, Utne Reader, Psychology Today, Backpack, and Fade In (The Future of Filmmaking). Also a big fan of all forms of music, John's CD collection comprises the latest titles by John Hiatt & John Adams, the country sounds of Steve Earle's "Transcendental Blues," the jazz works of Olu Dara's "In The World," & Charlie Hayden's "Now Is The Hour." All-time favourite movies on his list include "Some Like It Hot," "North By Northwest," "Being There," & "The English Patient." Favourite actors include Ed Harris, Joan Allen, Cary Grant, & Dustin Hoffman, & more. An outdoors enthusiast, John loves to travel whenever he has the opportunity to work out of town, even though most of his work is based out of L.A. His travels in the summer of 2000 brought him up back to Canada where he drove the TransCanada Highway westbound through the prairie provinces before heading back down the Pacific Coast.
He is currently performing in musical theatre at the Cabrillo Music Theatre. Previously, he served as Chair at the Alliance Repertory in Burbank where he also performed on the stage.
John resides in California with his wife and two daughters.
| Main Page | | Biography | | Filmography | | Friday The 13th: The Series |
| Photos | | Art Gallery | | Media | | Links & Credits